Aug 17, 2011 at 7:57 PM

Forum Moderator

"Life begins and ends with Nu."
Join Date: Aug 28, 2009
Location: The Purple Zone
Posts: 5998
For those of you wondering about windows (such as myself)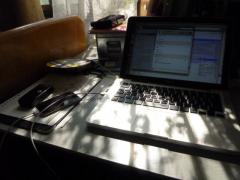 動作確認は毎回iPodへインストールするのだけど、
イベントの調整など、ちょっとした変更でもインストールが必要なのがわずらわしい。
Mac上で動くシミュレータも用意されているけど、操作はマウスなので、マルチタッチに対応しきれない。

細かい調整も積極的にでいるように、使いなれたWindows上でのクロス開発を目指すことにした。
入力はキーボードで、表示は DirectX を使えばたぶんいける。
Windows上で開発して、必要に応じて iPod で動作確認できるようにする。

これができれば開発スピードも上がると信じてるけど、
移行するのにまだ時間がかかりそう。
西日が暑い..

- straight machine translation

I tested not to install it to your iPod each time,
Such as adjusting the events of that bothers you need to be installed in small change.
I run the simulator is also available on the Mac, so the mouse operation, we can not support multi-touch.

As in actively fine tuning, which aims to develop cross on the familiar Windows.
Keyboard input, the display is probably go With DirectX.
Developing on Windows, to work on your iPod so you can see, if necessary.

I believe I can speed up development if this is possible,
Going to take some time to migrate.
Hot afternoon sun ..
It *seems* that it's very likely there will be a windows version. Whether he's just going to use this for his own benefit or release it publicly, I'm not sure.