Jul 7, 2011 at 6:39 AM


"What is a man!? A miserable pile of secrets! But enough talk, have at you!"
Join Date: Apr 18, 2006
Location: Forever wandering the tower...!
Posts: 1762
Okay, I started TSC scripting for the first time!
So, yes this is a newbie mod.

What you find here is simply a TSC modification of Cave Story. No real map editing, no hacks, no new graphics, music...
It's a TSC experiment to get a handle on the basics!
The mod is called :
(Cave Story)
NewGame+
You know, like the New Game+, you find on certain RPGs.
Once you beat the game, you can start over unlocking new content, or something like that.
...And that's the general idea of this mod.
To create a version of Cave Story that gives you different options than was allowed in the original.
Example :
Did you ever wonder what would have happened if…
…you could have saved Sue from Igor in the first cutscene?
…Curly continued to think you were a Killer Robot?
…you had kept MALCO's bomb and busted down the door with missiles?
…you could go to Last Cave before creating the rocket?
…King and Toroko could be saved…
...Not that any of that is currently implemented.
So far only from Start to the Graveyard is mostly complete so far. Content ends after Arthur's House.
Issues :
Dialogue could use some work, and some events still need tweaking. But, this version 0.1 release gives you an idea of what I'm trying to do.
NOTE :
this is just a practice mod and my focus is on the Cloud Story mod. However, it will be a while before I release that...
So, I cannot say how far I might develop this practice mod.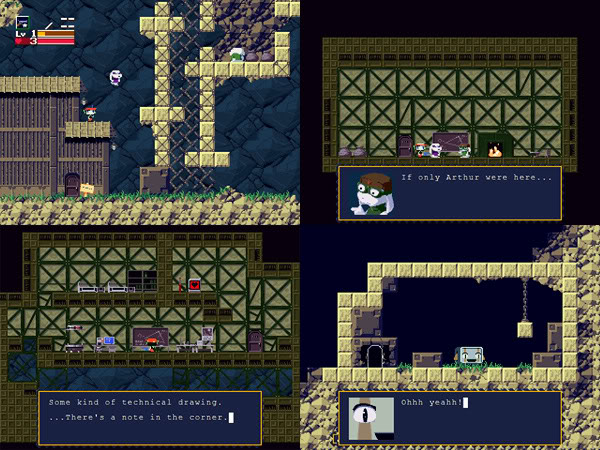 Version 0.1 :
http://www.host-a.net/u/X-Calibar/CSNewGameplusv0.1.zip
More info in the readme.