Mar 14, 2020 at 10:37 AM

"This is the greatest handgun ever made! You have to ask yourself, do I feel lucky?"
Join Date: Sep 23, 2019
Location:
Posts: 97
Ladies and Gentlemen, this is Mambo no.5 Gun. My first mod which I've been working hard on. The basic premise is that you play as Gunnoid-0 and you venture into Mechanto Isle's Colour Sectors to train yourself up to fight the War Machine. But will your training prove meaningful or meaningless? Find out as you experience this new mod for yourself.
Now as the for mod itself, it does take it's inspiration from MegaMan (getting weapons after defeating a boss, jumping higher in water) and Lunar Shadow (so yes, getting HP upgrades will heal you and alternate costumes exist). In addition, the graphics are mostly custom though some graphics from Cave Story exist albeit in a modified state. In addition, this mod also makes use of the MIM (Infinite Mimga Mask) and the Swimming Hack (hence why you float in water).
But I think I've said enough, so I'll let the screenshots do the talking, shall I?

Screenshots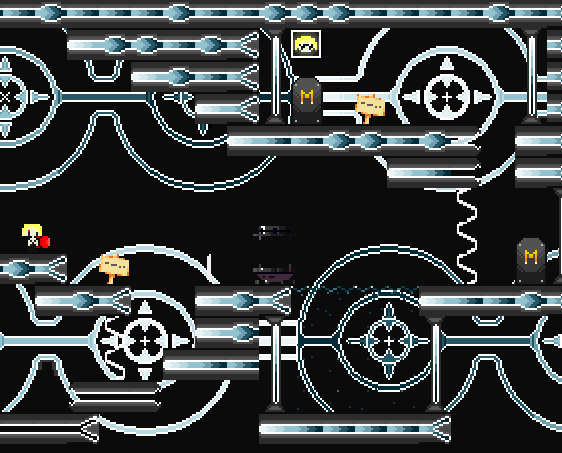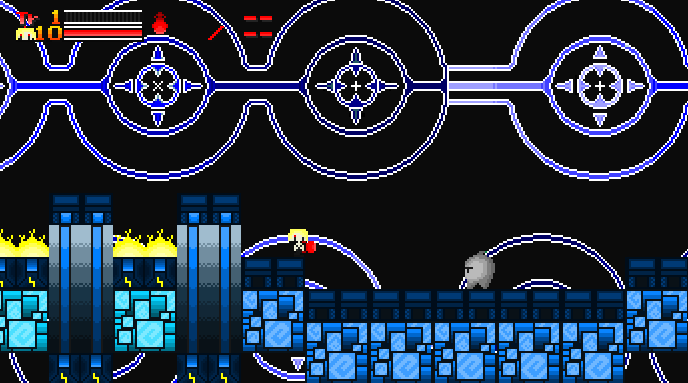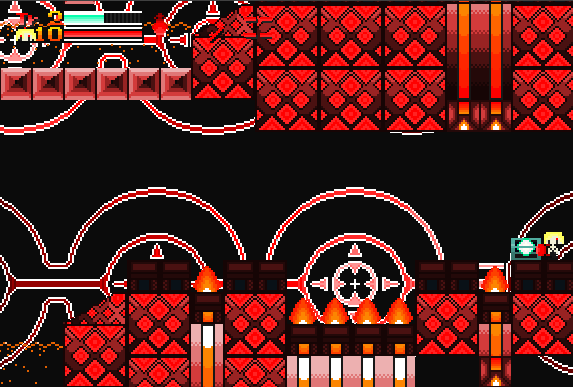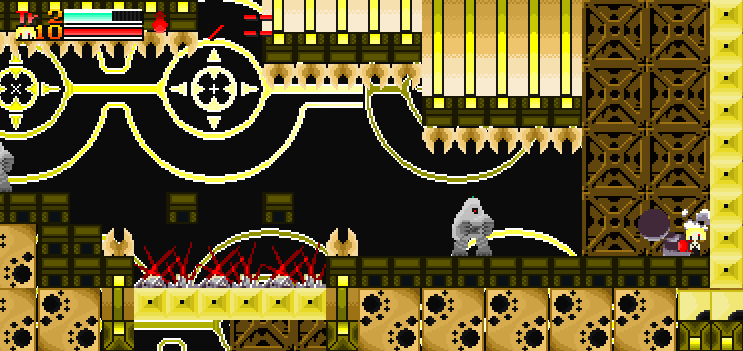 Changes List

(for v2)
General
All HP Upgrades now have <PRI instead of <KEY, preventing any accidental ambushes by enemies.
Now that EnlightenedOne has allowed me to use his Unique Teleporter hack, my mod will have enough teleporter slots to last me the entire mod.
The laser tiles in Level 4 and Level 8 have been replaced with Entity #211: Spikes, so yes lasers can now go in all 4 directions.
Training Hub Changes
The Taboo Jellies and Taboo Shooters have had their HP reduced from 100 and 300 to 25 and 40. Their XP has been dropped from 1000 to 50.
Manual/window.rect have been placed in the Manual file (not sure if that's a good idea or not)
The Hub background has been changed to black, making it more consistent with the Boss Sever (it also frees up a space for another background).
The terminal (changed it in tribute to Shin Megami Tensei III: Lucifer's Call, which had these terminals which took you to previous locations/allowed you to save your game) and computers have had their colours changed from black to white. I like this change because it reminds me of the 90s Apple Computer).
Added EQ+0002 to the Training Hub's intro event (i.e #0090). Level 0 has also been renamed to the Training Hub. In addition, the forcefields now deal 0 damage. I might consider changing the forcefield colour but we'll see.
Sector Blue
The extra door in Sector Blue will lead to an alternate path in Sector Purple.
The electric spikes will be replaced by Entity #102 and will also deal 2 damage and also replace the fatal spikes at the end of Sector Blue.
Sector Red
Changed the orange water to actual lava. It's just a matter of getting the tiles to align correctly. (I may reference this colour discrepancy in a future mod).
EDIT: The tiles work correctly and we even have side lava tiles now.
The fire spikes have been replaced by Entity #38, which deals 2 damage on contact. Lava will still deal 10 damage though.
The extra door in Sector Red will lead to an alternate path in Sector Orange.
Sector Yellow
The extra door in Sector Red will lead to an alternate path in Sector Green.
The water area with the blades has been altered slightly to give the player more movement room
VS War Machine
The leftmost sides of the area have now been sealed off. Instead of deleting them, I might consider reusing them for a level in a future update.
War Machine's Hover Body now uses the same zero gravity mechanic as the Ironhead fight. With that in mind, it changes the fight considerably.
Taboo Zone 1
The entire area has now been revamped so that it has multiple routes that can be taken. There are also two doors that can take you to different parts of Taboo Zone 2.
Development Trivia
Originally the mod was going to be far shorter, with v1 being the entire game and no Taboo Zone. As such, War Machine would have been the final boss with 覚悟 (Final Boss) [Kokuga] being it's battle theme. This was of course before I released that Clownacy's MOD Loader was a thing of course.
Custom graphics weren't planned from the start; I started out editing one thing and then changed them once I was no longer satisfied with the recoloured graphics I was using previously. After the graphical change, it was deliberately kept secret so I could make a better impression on the modding community.
Taboo-Oh was originally going to be an extra boss that was the Core/Undead Core using Ironhead's A.I. It was later changed to a Mini-Core reskin before that was changed into the fish-like appearance seen in the final game (so the graphics wouldn't be too weird).
Several enemy designs and Taboo-Oh had to be changed because I learnt from Brayconn that enemies positions in spritesheets are hard-coded. With that in mind, I had to get creative hence the why the Taboo Zone enemies and the Drone/Roblob enemies are in the same spritesheet.
Originally the second phase of Diamond Dogs was going be another round using the Sister's A.I. There was even consideration on using the lifts as platforms (with <MOV so the player would be warped to the top pf the arena if they fell into a pit). It got canned because while the boss acted differently, it was also quite buggy. As in, bosses shuffle in, are absent for a few seconds before rushing at you at blinding speeds kinda buggy. The second phase was now changed so all 3 phases are now different unlike War Machine.
Updates List
Gun v2 will add several new things to the mod:
4 new levels, three of which are themed after secondary colours and will make use of the previous level gimmicks while adding new twists of their own.
These new levels will require the Ascension Unit (or Tier 3 Gunnoid-Cannon for the brave) to navigate the levels. They also have routes that can be accessed through the extra doors that you need a Tier 3 Gunnoid Cannon or Ascension Unit to reach.
A new boss. The only thing I can reveal about this boss is that it's name is a David Bowie reference.
The Taboo Zone will be getting an expansion and a new boss. It's also connected to the new hub area that will be accessible in Gun v2.
Download Link :
Gun v1
Gun v2
Gun v2.0
(Fixes the War Machine script error, makes the Sector Purple keycard obtainable and slows down the Taboo scrolling)
Gun v2.1
(Fixes (Fixes the War Machine script error, makes the Sector Purple keycard obtainable but reverts the scrolling speed of Taboo Zone due to Follow Slowly breaking the level background) <- Current Version
Last edited: