Aug 25, 2014 at 12:43 AM


"I'm sorry Mario, but your princess is in another castle."
Join Date: Aug 9, 2010
Location: Greener Pastures
Posts: 1190
Age: 29
Ahem.

Perhaps you've heard plenty of stories, but in our world there are still more to tell. In older days, there was a magnificent guardian. It watched over the people from the mountain tops, rose with the sun, and in the morning its greetings boomed throughout the world. This is the way things were, and the way they would remain. That is, until someone climbed those mountains. They spent 20 days and 20 nights scraping their body against the cliffside, climbing ever higher to the domain of penguin. Upon the 20th day they had reached it, the lair of our guardian. When they had first laid eyes upon each other, the adventurer was baffled. What could he say, to the being before him that had filled his people's life with comfort? After a few moments he slowed his thoughts and said two words, one very familiar, and one very alien to him, though its utterance felt as natural as breathing to our brave adventurer.

"Hello... Penguin"

You must wonder why this seemed so strange; Well, before this fateful encounter penguins did not exist. Don't worry, I will explain that in a minute. Now then, that adventurer communicated with the guardian for hours on end. Together they listened to the music of the universe, witnessed the greatness and folly of man, laughed off heat great enough to destroy the world, and flew over the lands. Anything the adventurer wished would come to fruition, all with the guardian's power. But this our story does not end here, for when the adventurer felt refreshed, and had seen all his mortal mind could comprehend, he said something else. Something also natural to him, for as a mere human he knew not the gravity of the words he was about to speak.

"Goodbye Penguin"

Then the world grew dark, the skies and the earth inverted themselves and chaos reigned. The adventurer had unknowingly bid the beloved guardian to leave. Upset, our beloved protector proved to us its power, and threatened our world. They say several times over the world came to an end, a concept that is difficult to grasp I am sure. In the bleakest hour, when the former guardian of our world had grown to its peak of power, the adventurer whispered to it. The words that saved our world have been lost to time, but upon hearing them, the ethereal being grew beautiful wings and ascended to a plane even higher than the heavens it looked down upon us from. It shed a single tear on the rise, from which modern penguins would eventually spawn as we know them today.

And so we lived...

They say the wondrous avian deity will return to us someday, though whether his exile above us has led him to love or revile us is a mystery that only time will tell. If you are ever lucky enough to see him, greet him kindly, and never say goodbye...​
​
From the Makers of Hello Penguin, and absolutely nothing else.​
The HELLO TEAM presents...​
​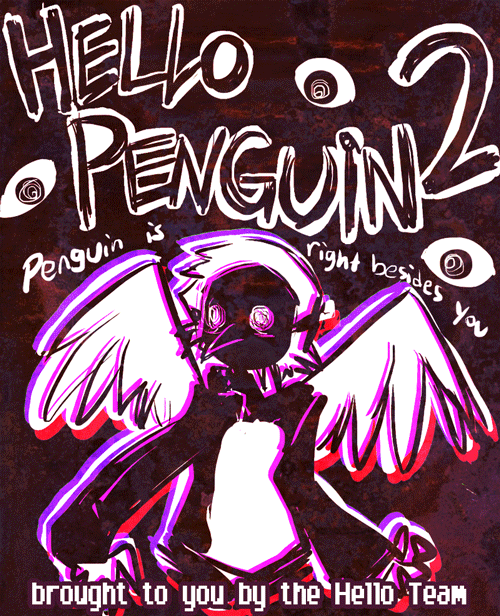 ​
After a year of waiting the reckoning is finally here!​
​Join us on an important journey, that will make you a better person.​
Peng is back, and we all can't wait for you to say hello.​
​
The newest adventure the Hello Saga includes:​
=16.36x as many lines of code!=
​
=High quality art assets!=
​
=An acclaimed soundtrack!=
​
=A heart warming story, to be spoken of in future ages!=
​
=Art made by me specifically!=
​
___________________________________________________________________________________________________________________​
​
​
Hello Penguin 2 is the mark wallberg of video games. Every where I look are tits, and that's okay, because I've never even tried to make out with a Skonk! 9/10 -1jim3bob
​
​
It's innovative, it's pretty, it's fun. Penguin/10
-Klink
​
​
UK Trainers! Ready to Today's final day of summer, Trainers! Ready to watch Are you choose? Happy? 9/10 -1jim3bob
​
​
It was a great experience with a lot to offer both story wise and in gameplay value (i think) The only thing I can say for sure about this great (maybe) game is that it is definitely worth your time. 8(I think)/10 -Cameron
​
​
What? No. 7/10 -Greychapel
​
​
penguin hello 2 two 2 hello penguin hello hello penguin 2 2 2 two penguin hello hello penguin 2 hello two hello too hello penguin 2 penguin two two penguin 2 two hello two penguin 2 2/2 -
Dunc
​
​
MY VIDEOGAMES REVIEW FOR HELO PENGUIN 2 IS THQAT ITS IS A 8/10 VIDEOGRAME AND IF I WERE TO SAY WHAT WOULD IT BE BECAUSE OF THIS IS THAT IT HAS A GOOD GAMEPLAY AND AN EMOTION STORY. -tost/10​
​
look. Look.​
LOOK. OK??????????
yes.
- dixon 4/10​
___________________________________________________________________________________________________________________​
​
The pengening is upon us, let us brace it together...
​
​
​
Important: Extract the files from zip or it won't work.​
​