Jan 16, 2015 at 11:38 PM


"This is the greatest handgun ever made! You have to ask yourself, do I feel lucky?"
Join Date: Oct 22, 2014
Location: Xyrinfe multiverse
Posts: 96
Age: 27
This thread used to be just for
Lunar Shadow
, but I figured, I may as well have its related works (like
Selenic Shadow
) in this thread as well.
One might say the whole thing's inspired by the
Castlevania
games, as well as a mod my ex-boyfriend made in 2012,
Shadow of the Stars
(hence the name being
Lunar Shadow
).
---
STORY (Lunar Shadow):
On 15 January 2013, a masked man decreed that everyone on Newerth would die in exactly two years. He went on to claim that those who dared to try and stop the calamity would be doomed to die before they could get near his castle. And he was right; many people who attempted to reach his castle did die. And those who managed to make it there died in a horrible, painful manner. A year ago, people began to talk as though he controlled destiny itself.
It is 13 January 2015, and a young girl named Serenity Horton plans to challenge the castle, to bring an end to the plans of this masked man before it's too late.
---
PROGRESS:
Lunar Shadow
: almost complete!
Selenic Shadow
: no idea?
Both are, however, on an indefinite hiatus, due to various reasons.
---
SCREENSHOTS:
I believe these are mandatory?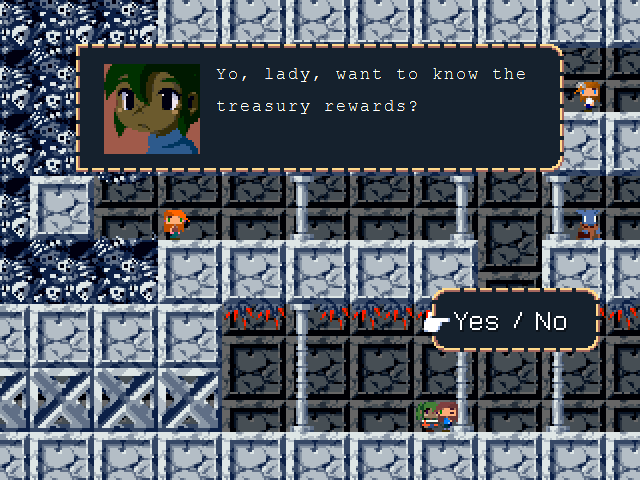 (
Lunar Shadow
)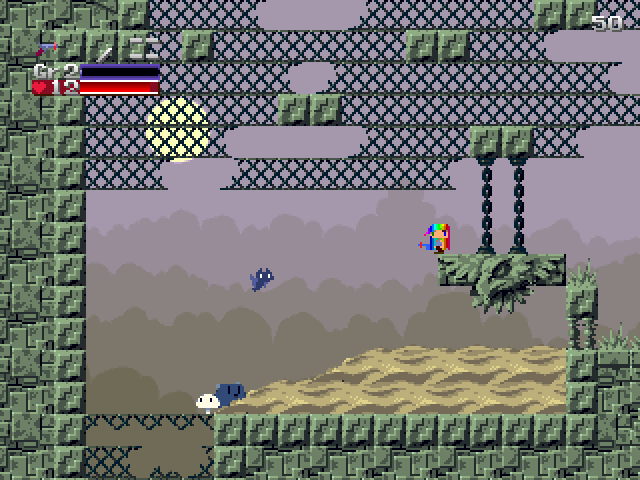 (
Selenic Shadow
)
---
FUTURE VERSIONS:
(LS) Complete the probably-not-so-secret area and boss fights
(LS) Fix as many bugs as possible
(LS) Fix as many Azehr-related bugs as possible (I swear Azehr is the most bugged boss in the entire mod)
---
DOWNLOADS:
Saves aren't fully compatible with different versions. Playing with a save from version 3a might cause a lot of bugs in version 4a (such as several new Life Capsules appearing in 3HP mode).
Lunar Shadow v4a (7z)
Lunar Shadow v4a (zip)
The fifth release of
Lunar Shadow
.
Size: 1.19 MB (7z), 1.86 MB (zip), 27.3 MB (unzipped)
Most areas can be accessed, with one notable exception (though, mentioning it would
probably
border on spoilers). So, this is almost complete. Maximum HP attainable is about 144 or 150 (non-canon). Also contains a lot of text.
Selenic Shadow 2.0.0.0
The second release of
Selenic Shadow
. Having lost my memory around 17 June, a friend of mine continued work on it.
Size: 1.13 MB (zip)
I know little about it, but Ariana (aforementioned friend) says the demo ends in "Grié'dýr: Death", and that
Selenic Shadow
is not canon.
Older versions:
Selenic Shadow 1.0.0.0
The first release of
Selenic Shadow
.
Size: 1.05 MB (zip)
Maximum HP attainable is more than 21 (so maybe 25). Demo ends after the third boss, in "Grié'dýr: Disaster". While it takes place in the
Lunar Shadow
world, it is considered non-canon.
Lunar Shadow v3a
The fourth release.
Size: 1.46 MB (zipped), 18.6 MB (unzipped)
You can access most of the Entrance areas, the entire Laboratory area, the entire Reservoir, the West and East parts of the Tower area, and most of the Servant Quarters (if not all of it).
Lunar Shadow v2a
The third release.
Size: 1014.38 KB (zipped), 7.72 MB (unzipped)
All of the Entrance and Laboratory maps are accessible. Some of the areas inside those maps, however, aren't necessarily accessible. It's impossible to go to the Servant Quarters or Reservoir or Tainted Garden.
Lunar Shadow v1b
The second version's second release.
Size: 947.61 KB (zipped), 5.42 MB (unzipped)
Most of the Entrance area is accessible, with the exception of two rooms. Fastest update of the mod yet. There's slightly more text, now. The other areas are inaccessible, so it's currently not possible to go to the Laboratory or the Servant's Quarters. Also fixes a bug in the first release of version 1 where it's impossible to leave the area.
Lunar Shadow v0a
The most basic demo. It bears the mark of Kim.
Size:
895.77 KB (zipped), 4.41 MB (unzipped)
Playable up to the boss room of the Entrance area, though the current boss is not the intended one. Made in two days (rushing things is not a good idea, of course); barely any text boxes in-game.
---
Lunar Shadow:
0: initial release on 16 January 2015; ended at the boss room of the Entrance area.
1a: released on 17 January 2015; had fifteen rooms in the Entrance area (out of seventeen) and has a different boss.
1b: released on 17 January 2015; fixed a major bug that prevented one from going back to the top of the starting point area
2: released on 19 January 2015; had all the Entrance and Laboratory rooms
3a: released on 19 February 2015; had Entrance, Laboratory, Reservoir, Tower and Servant Quarters area
4a: released on 29 December 2015; almost 100% finished; has a map with 18,492 characters, instead of 17,999 characters; allows for a maximum HP of 144 (or 150)
Selenic Shadow:
1.0.0.0: first official release on 13 June 2016; ends at the "Grié'dýr: Disaster" map
2.0.0.0: released on 12 July 2016; apparently ends at "Grié'dýr: Death"
---
CREDITS:
Pixel: for making Cave Story and Ikachan.
Wistil: for making Cave Editor.
Noxid: for making Booster's Lab.
Polaris: for allowing me to use Gardevoir sprites
andwhyisit: for one of the "bkEntrance" backgrounds
DoubleThink: the idea for Rainbow Ikachan as an enemy
Randolf/Hina: two ORGs, the swimming hack and the pre-made Polar Star hacks
Tpcool: ORG transcriptions
SuperJaws100: ORG transcriptions and permissions to use ORGs
knuckles5577: for allowing me to use skeletal bat sprites from his Curly's Story mod
alfasketer: beta testing and a sprite; naming Selenic Shadow?
X-Calibar: beta testing
Ariana: not a member (so far I know), but she helped with the mod after I got amnesia (as in, memory loss, in case it wasn't clear)
Others: those who aren't members of these forums.
People I may have forgotten to mention here (so probably everyone)
---
Sidenote: there are loads of references to a lot of things. Including
Castlevania
, as mentioned a few times.
Also, the IPA for "Grié'dýr" is something like /xrɪˈeɪtiːr/. (If that helps with its pronunciation.)
---
EDIT:
Just to keep track of polls. Not going to add who voted for what, though the amount of votes from members of this forum will be added.
Poll #1:
what should the protagonist's name be?
Mio: 0 votes
Yui: 0 votes
Irma: 0 votes
Luna: 4 votes
Azusa: 0 votes
Ritsu: 1 vote
Ariana: 1 vote
Marion: 0 votes
Tsumugi: 0 votes
Natsumi: 4 votes
Serenity: 10 votes
Meredith: 1 vote
Shinica: 2 votes
Danielle: 1 vote
Valerie: 3 votes
Elizabeth: 0 votes
Other names: 2 votes
Last edited: