Apr 2, 2016 at 11:09 AM


"Fresh from the Bakery"
Join Date: Mar 13, 2016
Location: The trashcan
Posts: 3
I need someone to make a talksprite (the talk icons in Face.bmp) for the main character of a mod of mines.
Here he is: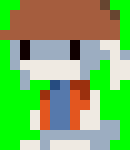 I added a green background so you could see the white.
If you could make multiple faces representing the same emoticons as the ones Curly has in Face.bmp, then that would be very appreciated. But you can also make just one single face. It's okay.