Nov 11, 2010 at 3:26 AM

Forum Moderator

"Life begins and ends with Nu."
Join Date: Aug 28, 2009
Location: The Purple Zone
Posts: 5998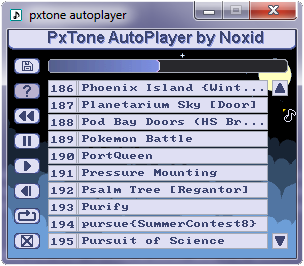 Basically what this does is you put it in your folder with the PxTone music you want to listen to, and hit load. When you press Start, it will play the song until it's over and then picks the next one randomly if the RAND button is highlighted, or in numerical order if not. If the LOOP button is pressed, then it will just loop one song indefinitely. PREV takes you back to the last song you were listening to, RESET starts the current song from the beginning, and QUIT does just what it says. You can also navigate the list yourself with the arrow buttons on the right, and choose a song manually. It's set up to hold a maximum of 999 songs, but if you can get a thousand PxTone compositions then I'd be amazed. The graphics are just on a plain ol' bitmap, so if you so wanted you could customize the buttons and background.
The buttons are iconic now instead of words. << is PREV, <| is RESET, ? is RAND, || is PAUSE, > is PLAY, the loop symbol is LOOP and X is QUIT
V1.2

Direct Link
MediaFire
V1.1
Direct Link
MediaFire
V1.0
Direct Link
MediaFire
Thanks to tile44.org for hosting
I appreciate any and all feedback :]
*Note: Only for use on Microsoft Windows(tm) Operating systems.