Nov 29, 2015 at 2:17 AM


"Fresh from the Bakery"
Join Date: Apr 14, 2015
Location: Inside my labtops hard drive!
Posts: 13
PRELUDE is my unofficial sequel to Cave Story and a re-imagining of the events that occur 10 years before the original game. I hope to release a demo soon.

Here's footage of me playing some of it:

Here's the story so far:
Quote and Curly are dispatched to Mimiga Island to exterminate the Demon Crown.
Unfortunately, the two are separated during one of Miakido's devastating attacks.
Miakado's troops throw Quote into the deepest depths of the island... and now he must find his way out, and destroy the crown before it's too late.
It's my first mod, so constructive criticism is necessary.
Oh, and here's some art: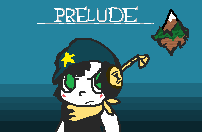 Last edited: