Jun 3, 2009 at 5:31 AM

"Ha! Ha! Ha! Mega Man is no match for my Mimiga Man!"
Join Date: Oct 22, 2007
Location: At the table you ate at as a child, drinking tea w
Posts: 242
Age: 26
Now then, I think it's about time we began our course. Many of you should already be aware of who I am, but in the classroom you will address me as "Professor Kageryushin." I, Professor Kageryushin, am temporarily hijacking this forum in the name of higher learning using the prestigious abilities of my e-diploma in Yanderekology, so please, take your seats and prepare for the lesson. You will not require any materials for this course, so please come as you are. Be aware that the nature of the material contained within this lecture is subject to alterations depending on the situations of the individuals involved; thus, while this will provide a basis for your understanding, it is by no means a set in stone guide. Also, if you wish, please review
Wikipedia's article on yandere
so as to have a basic understanding of the subject before we begin. So, without further ado, we will now proceed.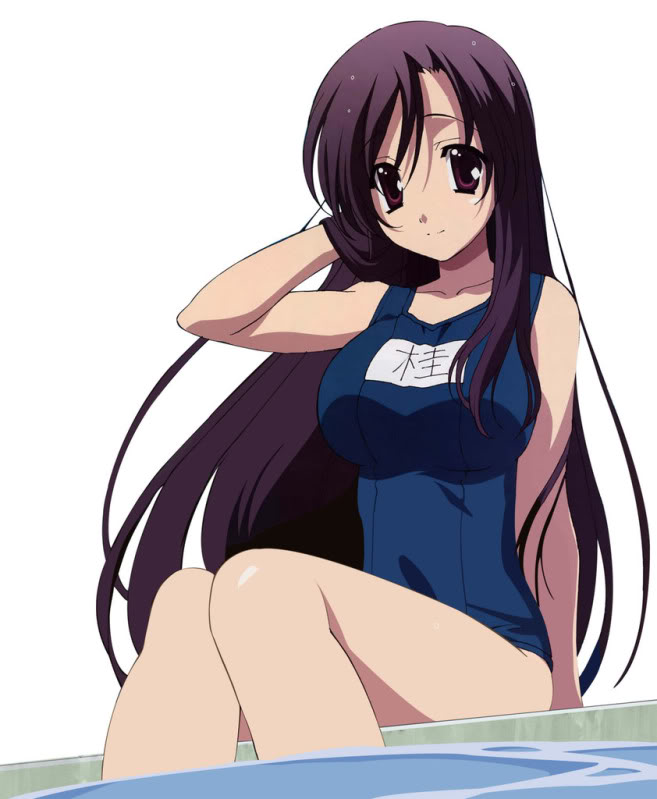 When obsession wins over love and you've got yourself an immensely affectionate stalker instead of a girlfriend, you have a yandere on your hands. These are the kind of girls that break into your house while you're away, hide under your bed while you're at home, schlick directly under you while you sleep, come out when you're gone again, schlick again in your bed while licking and humping your pillows, and then proceed to check your messages to see if you're involved with another girl. They usually don't have any kind of higher ideal or ethical policy; they sometimes don't even view themselves as people so much as an entity made out of the impulse or desire to be with their man. A yandere is awesome because it's outwardly impossible to tell that the girl is completely insane; she has just enough presence of mind left over to maintain a convincing façade, and God help everyone around her if she decides to drop it. If you don't react well, things could get messy, so in the off chance you don't want to enjoy the fruits of your yandere's darker exploits, here's several things you need to take into account.
1. Remember your objectives:
-Survive.
-Her mental integrity should be kept at a reasonable level and maintained.
-She should still love you unconditionally.
2. Be sure to remind her how much you love her and basically compliment her as you would any women. Be careful about criticism, though, because she'll probably go a little over the top in attempting to fix this problem, and if she can't, she'll try to fix your perceptions of this problem instead. When prompted, re-affirm your hatred of those other skanky, dirty whores. Putting down other people is fun anyway, right?
3. When she starts talking nonsense, she is being put under stress. This stress is based on the belief that you are being unfaithful or planning on leaving her. Pacify her with constant, unadulterated attention and sex. Remember that one of the best things about yandere is that they're completely devoted to you, so why shouldn't you return at least some of the favor? This entire fiasco can be summed up in a single line: "It'd be great if he was nice and looked only at me. Yes, only at me… He can't look at any other girls. I'd look only at him, so he should look only at me. It's only fair, right?"
4. Contact with the opposite sex in public should be kept to a bare minimum -- the assumption should be that she IS watching. When she's with you and you talk to other women, she'll either flaunt you in front of them or discourage prolonged conversation. In either situation you should play along, expressing your undying love for your yandere all the way. In the latter one you should cut off contact as soon as she gives a prompt to do so. Occasionally she'll become openly hostile to women she finds you speaking with, so diffuse that bomb before it explodes. Female relatives may or may not be accepted by the yandere, though for the sake of her façade she'll usually ignore them.
5. Yandere only ever overstep their boundaries if you're overstepping yours, maintaining a façade of perfection elegantly - and scarily - up until the point where it must be dropped, and even then, they are often very forgiving, even coming with warning signs if you look for them. If she's becoming a "nuisance," think of something to occupy her; the yandere likes to do things for you, so keep her busy doing chores that make her feel she is strengthening the relationship. This is one of the best parts about the yandere since she'll spoon feed you if you ask her to and she won't even see it as strange, so basically all you need to do is give her chores. This is pretty damned simple. Anyone with half a brain can get someone else to do everything for them. Again, this is one of the yandere's greatest pros: -20 in sanity in exchange for +20 in homemaking.
6. Yandere are not opposed to safe sex, but they are opposed to mechanical means of birth control. It's not because they enjoy sex physically more than any other girl, it's because they view sex more as a spiritual ritual in which they become closest to combining with their loved one; she will always demand sex to be as raw as possible. If birth control is desired, they will generally have no problem taking the pill and consider condoms to be a barrier to achieving oneness with you.
7. A yandere will never, ever share you, nor will she accept any kind of rival; to her, other girls are nothing but enemies. Yandere don't feel the kind of isolation some normal girls might, and so will never believe themselves to be different or special to other girls. To a yandere, other girls have the same filthy desires and conniving thoughts as she does, which is why she loathes other girls so much; she firmly believes other girls are out to steal her loved one. If two yandere met over the same guy, they would launch a war that wouldn't end until one of them was dead. No mercy, no surrender.
8. The yandere will almost never rape her loved one if they are still outside of a relationship. The yandere will attempt to attract you using conventional means, as the yandere believes from her own upbringing and education that this is the correct method for getting her man. If she knew she could get you by raping you at gun-point, she would do so immediately.
9. When it comes to your yandere killing someone, the only thing that needs to be asked is, "did she clean up well?" Oh, right, she's a yandereko, of COURSE she did. What the hell are you complaining about? I mean, these things should be expected, you know. If there's little to no chance of the killing being traced back to you or your yandere, there is no dilemma.
10. I think that sometimes the attraction to yandere is based on the childish, idealized belief that your love can cure her. PFFT. This is DANGEROUSLY NAIVE. "Cure" her? Why would you want that? Her being an obsessive, potentially-dangerous psychotic is the whole POINT. To say someone finds such a person attractive out of some misguided belief they can "fix" them is like saying a "chubby chaser" finds big women attractive out of some belief that he can get them in shape, when really he just really likes the fatties. In all likelihood the stress of a relationship would make her psychosis even worse. Yandere are crazy and there's no way to make them feel at ease, and if you think you can then you'll end up with either you or her dead, possibly both.
11. There is a fan phrase that goes as "tops from bottom." Consider what it might mean. Many yandere merely want their most important person to love them as much as possible, and to this end will try to make their beloved happiest by doing whatever they want, which is pretty submissive. However, recall that she's allowing you--nay, demanding that you use her body as physical proof of the depth of her unconditional love for you. On the other hand, there are certain yandere that'll tie you up for no reason other than to trap you however they can so as to keep you all to themselves. This put into perspective, be wary of considering the yandere a "doormat" sort of girl, because if you do, it's very likely that the doormat is going to be walking all over you.
12. Be aware that not all yandere are completely lucid in their perception of your fidelity, often adopting the assumption that you have forsaken her for another woman without any cause for belief at all, thrusting you into a less "boring" position at the drop of a hat. Do not make the mistake of taking the "not cheating" aspect lightly. She shuns any contact with the opposite sex and dedicates herself to be the perfect wife for you and you alone... and if you don't do the same SHE WILL FUCKING MURDER YOU.