Dec 7, 2012 at 3:44 AM
Hey guys, so I was inspired by HaydenStudios to make a topic on one of my old-ish Game Maker games.
I found one of my Game Maker games that is actually worth playing: "Super Bash Bro's Ultimate". This game was inspired by Super Smash Brothers for the N64 (this was before any later Smash Bro's games), but it only uses items for attacking and jumping on the other player's head also kills them; there are no physical attacks like using fists and kicking.
Though a good amount of it is for 2 players only, there are a number of mini games that are actually pretty enjoyable and it makes this worth a download even if you don't plan on doing any 2 player stuff at all.
I highly recommend trying out Peach's Nightmare, if anything (and you haven't truly beaten this mini game until you can find and defeat Big Boo.. can you do it?? heh heh)
.
I've included a save with the "Peach's Nightmare" mini game already unlocked, because I know how hard it is to find all of the unlockable content. There is also a code to unlock everything, and I can message it to you if you want. I created the "unlock all" code because the system for unlocking things was the game's major flaw. It's flawed because of the many times that it relies on 2 active players for the unlocking on various things. That said, it is possible to unlock everything with only one player, but it's just.. odd to do so. This was an oversight on my part. When I made this game, I wasn't as bright as I am today; I'd never create such a weird unlocking system. It's sad because there are some cool things to unlock that many people will probably never see, unless they use the unlock all cheat.
Just to give you an idea on what you can unlock:
The mini games include: Scrolling shooters, a bomberman style game, some classic platforming action of the Mario and Peach kind, a pipe maze, and more. And there are some fairly entertaining short movies/animations as well. Of course, there is a good amount of unlockable multi-player content as well, being characters and stages.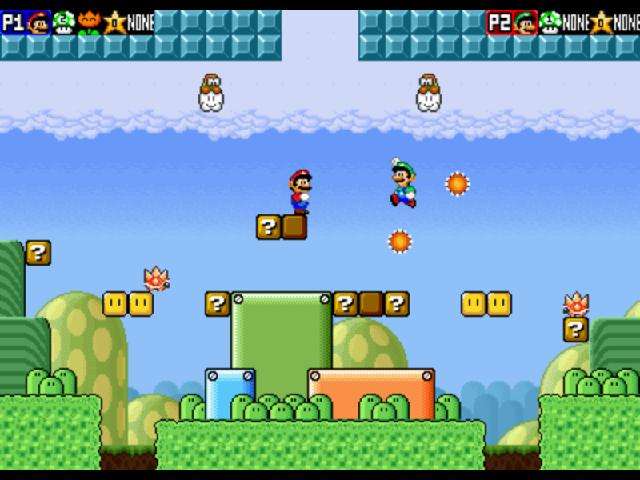 Download mirror 1:
http://www.2shared.com/file/oqZ7Xg2R/SBBUv1_1.html
Download mirror 2:
http://www.mediafire.com/?56uv6f2sxm8gx0v
Note: If you want to unlock everything yourself, simply delete the save file that comes with it. There are only two things unlocked in the current save file: The Pipe Master mini game and Peach's Nightmare mini game. If you want to unlock everything yourself, but you want to know how to unlock everything, I have a master list of all the unlockable content that tells how to unlock everything.
EDIT:
The odd error has been fixed. This error was caused by some weird persistent thing that ended up being screwed up from porting to GM8. It still makes no sense why it messed up, but it works fine now that it has been removed (it had to do with turning the sound on/off, so that option is now gone, but it's not a big deal).