Apr 23, 2022 at 2:35 AM

Been here way too long...

"Life begins and ends with Nu."
Join Date: Jun 27, 2013
Location:
Posts: 2704
Age: 28
Hello Internet,
welcome to Cave Theory!
Cringe reference aside, I just had a major realization that I know someone has thought up before I have, but it is an interesting idea. So, Quote's cap, despite official artwork leaving the plate on it blank, allowing for funny edits to emerge from it, it has been stated by Sue in both the AGTP and the Nicalis translations that his hat has letters marked onto it (or some sort of symbols). Based on artwork for the beta version, it can be deduced that his hat says "Curly Brace", as that was his original name.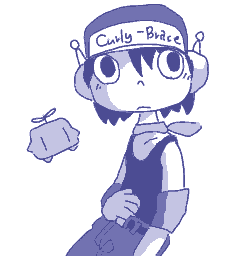 However, this is the current version of Quote we're talking about, and even if his cap does canonically say "Curly Brace" on it, it wouldn't just be because in the game's history, he was called Curly Brace. This is Pixel we're talking about, he wouldn't have thought this far ahead, even if he denies the fan claim that it says "Curly Brace" (source needed if he's ever mentioned it in his BBS). So why the hell am I making this theory thread, then? Well, it's because it isn't that Quote wasn't originally named Curly Brace, but I think, he is a Curly Brace, or rather, that is the name of the robot model both he and Curly are. Let me explain.
Quote and Curly, they're both very similar robots in design, besides the aesthetic, of course. Both are equipped to use weapons in ranged combat (even if given a melee weapon), both can take life capsules to increase their durability against any hostile being that comes to them or anything sharp, they're also both amazingly sentient for a pair of androids, as both are capable of emotion, free will, morals, and even amnesia! If Misery would've wanted to, she could've had their minds wiped with magnets over magic, the fact that she used magic to make them forget the events that happened a decade prior to the events of the game implies they think more like humans than like machines. However, while that can apply to most of the surface robots (like the soldier from the Core's room), Quote and Curly seem to be more compatible with each other than they would with any other robot soldier. Curly was able to transfer her Air Tank to Quote without any problem (and vice versa in Curly Story), and both are able to use pretty much the same augmentations to their combat skills (Turbocharge, Whimsical Star, Missile Upgrades, Arms Barrier).
But what really seems to seal the deal with those two being the same model has to be the Iron Bond. An item seemingly shared exclusively between the two. Now, in the description for the Iron Bond, it is Quote's "tie to Curly Brace, the only warrior [he] would trust his back to." Now, in a story perspective, it makes a whole lot of sense metaphorically. Despite Quote and Curly having barely met in the Sand Zone, he still felt compelled to rescue her from drowning, drain the water from her system, travel all around the Island just to help restore her memories with the help of a mushroom he has slain just to restore her memories of him, only to find out they were there for each other long before in-game events, it'd only make sense for them to team up later on and fight side by side, as partners (that is, if you already know about the Sacred Grounds, but that's another story altogether). But it can also be taken in a literal sense. Quote literally straps her onto his back so they can traverse through Hell together, and seemingly shoot at things without any spoken command at the same time, like, literally simultaneously. While that can just be deduced to just the two of them being controlled by the player, and video game logic, there could be more to that. What if the ability to shoot together simultaneously comes from the two robots using the Iron Bond, the item that is exclusively used between the two robots? With its coloration, it resembles a computer chip, and it could be used as a network transmitter between the two, the two robots become one entity when in combat, sharing the same mind together. They're also able to switch back to their usual selves once they finish their killing rampage, as seen after killing Ballos.

So this is why I think Quote and Curly are the same model of robot, the Curly Brace model. And that's what makes them unique compared to the other surface robots. But hey, that's just a- Nope, I'm not going to finish that sentence.
Yes, I know Curly Story is entirely non-canon, as much as Tyrone himself saying all bonus content in Cave Story+ is canon.