Feb 24, 2009 at 5:42 AM
Some weapons could definitely be one of a kind. The Nemesis certainly isn't. The Fireball and Bubbler could be – they're unusual enough. The Snake almost certainly is.
Agreed
Not necessarily. It could be that he's never seen either weapon before, but happens to understand how they both work once he sees them.
Meh...Just seems a little farfetched.
The machine gun is nothing at all like the polar star. This is like suggesting that you upgrade your washing machine to a dryer. They're just not similar enough for such an upgrade to make sense.
...Lawl. Yeah I guess your right about that. Yet there should be a reason for her losing the polar star, since she obviously wouldn't have one forever. I mean why should she trade her Machine gun for Quotes polar star when she HAS a polar star. Kinda thought 2 birds 1 stone idea. Hell they could have destroyed the polar star since it was her weapon when they captured her and they could give her a machine gun since the mimigas seems to have machine guns. The bullets they use look pretty much the same.
I... don't remember this happening...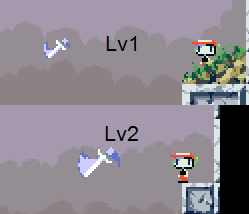 Size difference.
Now, this almost makes sense... however, the machine gun is almost certainly a projectile weapon, so an "energy core" from the polar star would be useless to it (assuming the polar star is even an energy weapon in the first place; it's likely, though).
I can agree with that as much as I can't. Because it's true, the machine gun takes time to reload and does NOT have infinite ammunition; however, it shoots at a rate much faster than the polar star. The polar star is just 2 shots, the machine gun is not only 3, but it's very rapid. With such a rapid increase of energy usage the core would be exhausted. Since the ammo seems to recharge on it's own, one could assume that said thing has an energy core it just needs time to charge after being used for such a prolonged period of time. Meaning it does have an energy core. Then again, if the polar stars energy core couldn't handle it while in the polar star, how could it in the machine gun would be the problem. Then again, this isn't my mod, so I'll let it up to the creator on what to do with that stuff.
Why does she need a weapon like the blade? Just because Quote had a certain weapon, doesn't mean that Curly must've had a similar weapon.
Granted. She doesn't.