Sep 9, 2016 at 5:45 PM
I present to you all my second mod ever, a boss rush with a "plot".
Take of that what you will.
This mod is pretty much done; no further releases will happen, excluding bugfixes.
Downloads are available
here
, in the "CS Boss Rush" folder.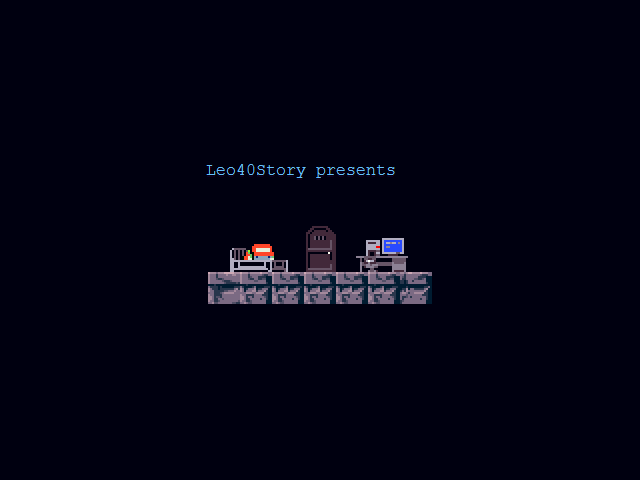 Changelog:
Version 2.12
Quote is now actually on the computer in the "talking with Sakamotos" cutscene! (thanks to zxin for the sprites)
Fixed TSC error in "good" ending
Added someone and something to the credits
Version 2.11
Made hint for "good" ending in "normal" ending clearer
Fixed a certain entity in "normal" ending not appearing when it should
Corrected spelling mistake in "normal" ending: troughout -> throughout
Added parallax scrolling to ending screen
Version 2.1
Fixed Air Tank graphic when obtaining Tow Rope
Removed ending shortcut in Quote & Curly's House
Balrog 3 victory message now shows up after he jumps out of the room
Removed fanfare when breaking capsules
Removed Save Points from all areas before the Preparation Room
Changed intro cutscene a bit
Fixed inconsistent fading between Camp and Outside
Fixed note in Intermission appearing when CapSue quest hasn't been done
Added proper ending screen!
Version 2.0 -
THE DEFINETLY FINAL POLISH
Fixed Undead Core being skipped
Best ending stuff:

Tow Rope is obtained after defeating The Core without Booster 0.8
Curly appears carried and unconcious in Ironhead fight

Fixed Ironhead no-damage bonus not activating
Changed "but thou must" scene to be less stupid and more meta
Made what you need to do in Intermission to unlock the door more obvious
Balrog 2 victory text now shows up after he jumps out of the room
Added images for trade/combine capsule operations (seen after detecting the capsule and before confirming the operation)
Fixed various text oddities
Version 1.61 -
THE DEFINITELY FINAL HOTFIX
Removed delay from Life Capsule dialog in Capsule Breaker (I removed the fanfare but forgot to remove the delay for the fanfare ).
Nemesis Capsule now becomes Blade Capsule on use, which allows you to trade the Nemesis back for the Blade. The Blade Capsule becomes the Nemesis Capsule again after trading.
Fixed a name in the readme.
Version 1.6 -
THE DEFINITELY FINAL RELEASE
Changed capsule graphics a bit.
Reduced empty space in some maps.
The chest in Balrog's Place now gives the Replica Star (AKA the Polar Star) instead of the Nemesis.
Some dialog changes.
Getting HP from the Capsule Breaker now takes less time (skips over fanfare).
Fixed a name in the credits.
New/Load menu options are now in their vanilla positions.
Added an extra save file next to the House(?)

WARNING: Saves from previous versions in the Preparation Room won't work in this version (you'd load inside the floor)!
Version 1.51
Fixed end area inexplicably turning from night to day.
Version 1.5
Fixed Igor not showing up correctly.
Fixed endless loop in Undead Core.
Made the Blade look more mysterious (I.E. not King).
Version 1.44B
You can now return to the Landing Zone from the Preparation Room
Changed intro a bit
Version 1.44
Fixed Balfrog and Omega having glitched graphics
Fixed Undead Core crashing the game
Removed multiple saves (caused above crash)
Version 1.43D
Fixed Balfrog having glitched graphics
Version 1.43C
A fix only someone with OCD would notice.
Version 1.43B
The Whimsical Star is no longer obtainable without getting the Spur Capsule
Changed intro animation a bit
Changed weapon descriptions a bit
Fixed transparent pixels in Machine Gun Capsule sprite
Version 1.43
The Turbocharge and Whimsical Star can now be obtained!
Reverted some map properties
Changed a cutscene in Intermission
Saying "No" to the Capsule Breaker Polar Star Capsule prompt no longer skips scanning for Life Capsule
Version 1.42C
Fixed Twin Dragons failing to spawn
Version 1.42B
Another day, another removed devskip
Version 1.42
Multiple saves (from Noxid's "open-source" hacks)!
More vanilla-esque title screen (had to be rebuilt for the multiple save hack)
Version 1.41B
Fixed the Snake Capsule giving a duplicate Fireball instead of the Snake
Version 1.41
Removed devskip I accidentally left in
Some more bugfixes
Version 1.4
New title screen song!

Fixed Preparation Room being misspelled as Preperation Room

Rebuilt Preparation Room a bit
Some bugfixes
Version 1.35
Fixed both closed and open chests appearing in Balrog's Place
Unnoticeable fix in Intermission
Version 1.34
Version 1.33
Fixed infinite loop when getting the Booster v2.0 after Ironhead
Version 1.32
Fixed getting stuck in Preperation Room after grabbing the Polar Star capsule and reloading
Version 1.31
Credits:
Last edited: